Jennifer chatted with MTV's Josh Horowitz about going bra free for her role in the film.
She also shared about her cry face, which Josh Hutcherson calls a "platypus face."
Jennifer also talks about her fave reality tv show with MTV :
Jenn talks about the anxiety of being in the spotlight and doing films with E! Online.
"No, I'm always just very nervous," she tells E! News at the American Hustle junket. "I never feel like, 'I've got this.' I'm always very nervous and aware of how quickly people can hate you and that scares me. I never feel like I'm on top of it or I know what I'm doing…so, no. I never get a big head, I just get more and more anxious."
Variety had a group chat with the cast, including Jennifer. [ScreenSlam]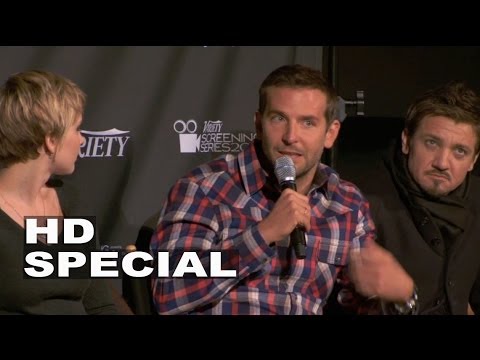 She also talked with Access Hollywood about her role as Rosalyn in the film.
Thanks to Jennifer Lawrence Daily!