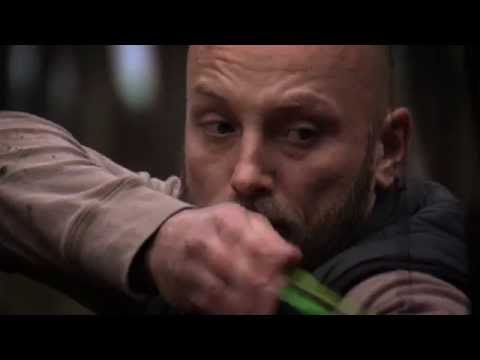 Dayo Okeniyi has been one busy busy dude since his part in The Hunger Games. Before he was in Terminator Genisys he tried his hand at the horror genre.
From the press release:
If you're like millions of THG fans, you mourned Thresh's untimely death and figured you'd seen the last of him in the arena.  Well, fortunately for Dayo Okeniyi – the actor who portrayed the beloved character in the movie – he not only survived his big screen debut, but has since gone on to appear in a number of films, including this summer's Terminator: Genisys!
But in addition to his supporting work in Hollywood blockbusters, Dayo can also currently be seen playing the lead role in the independent horror film American Backwoods: Slew Hampshire.  His performance as Bro – the reluctant hero amidst a collection of creeps and creatures – has been widely praised and even earned him a "Best Actor" nomination at the Shockfest Film Festival!
You can check out the trailer for the horror flick, released in June, and if it's a movie in your wheelhouse you can find it on a variety of Video on Demand services (Amazon, Google Play, Vimeo, etc).